Don't be shy! Try out one of these methods to get in touch with a match:
Send a Smile as a greeting or simply to express your interest. You'll find this option directly on their profile.

Send a personalised message to introduce yourself to your match and tell them a little more about yourself. It's also a great way to find out more about your match and, most importantly, this could be where your relationship starts! You can do so via their profile, or via your "Matches" list.



Your messages are saved in your EliteSingles message "Inbox" which you can find by clicking on "Messages" at the top of the screen. This is indicated by the envelope. Under "Messages" you will also see your "Sent items" folder and your "Drafts" folder.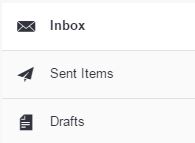 If you are using a mobile device, these folders will appear at the top of the screen.
Important: for security reasons, you will be automatically logged out after 30 minutes of inactivity. Save drafts every so often to avoid losing your message. If you think the message is going to take longer than 30 minutes to complete, you may wish to write it in a text document and then copy and paste it into the message field prior to sending.
Comment on or "like" their profile or photo. Simply click on "Comment" underneath the profile entry you wish to comment on and type your remark or question in the box which appears. Your match will be notified and will be able to view the comment again at any time. The "like" button is next to the comment button, indicated by a "thumbs-up".
Similarly, you can like a photo or comment on it by clicking on the photo. The "like" and comment icons will appear on the photo.
Comments are only visible to the sender and the recipient. All comments are saved in the communication history between you and your match. 

It is not possible to undo any of these actions. If you delete a match, or a match deletes you or their profile, all messages, comments, likes and smiles will no longer be available.